It's my birthday, and I'll hike if I want to
Hike if I want to, hike if I want to
You would hike too if it happened to you!
My 32nd birthday was on Tuesday, August 5th! For a couple of weeks I debated how to celebrate! I knew that I'd be in Arizona that day as I wasn't traveling, but I realized that didn't mean I had to stay in sizzling hot Phoenix in the 200 105 degree heat! I thought about what was important to me – staying cool, doing something active, spending time with my husband, seeing a brand new place, and being surrounded by nature! It occurred to me that driving up north to Flagstaff and finding a hiking spot would be the perfect answer!! I asked my friend Corine aka Zucchini Runner if she had any suggestions and she told me about the Flagstaff Nordic Center!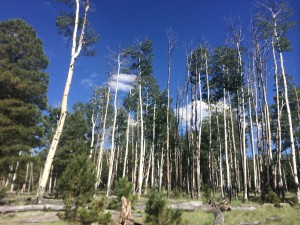 Since I'm all about pictures (shocking right?), I knew I wanted a really cool and unique shirt! So I asked my friend Theresa, owner of Shark's Bites of Life, for help finding a place that makes custom shirts! Check out Theresa's shirts on Etsy! She directed me to Spreadshirt! On Spreadshirt's website, I customized a tank that said "It's My Birthday And I'll Hike If I Want To" on the front and "Cook and Run with Kristin.com" on the back!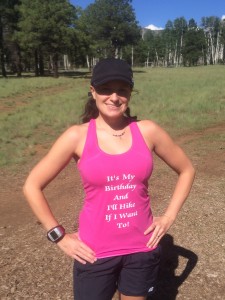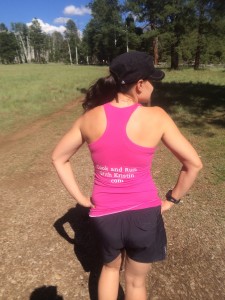 The shirt came out great!! I LOVED it!!!
So how did my birthday go? Let's start from the beginning! I woke up, drank my Shakeology, and did the PiYo Workout that was on the calendar for the day, PiYo Sweat!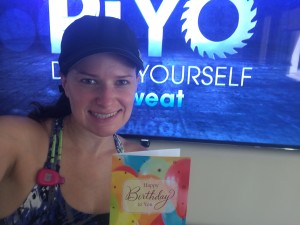 After a quick shower and a change in clothes, we packed up the car with our necessities and headed up to Flagstaff. By about 1:30pm we stopped and had lunch at the Mix Restaurant on N Leroux street. I found it through a search on my phone. The reviews were excellent and I loved that they were all about local ingredients and fresh made-to-order soups and salads. They don't believe in using processed foods on their menu and neither do I, so it was a great choice! Evan and I both enjoyed the cauliflower soup with our sandwiches – delicious!!
After we filled our bellies with a fabulous lunch we headed to the Nordic Center which was another 20 or so minutes of driving. By about 3:00pm we arrived at the main lodge.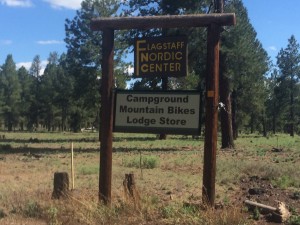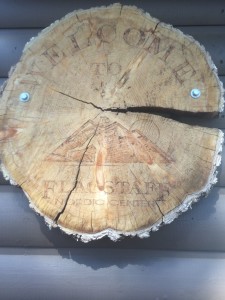 Right before we started hiking, I checked the weather and I was very thrilled to see that it was 75 degrees and sunny out! Perfect hiking weather if you ask me!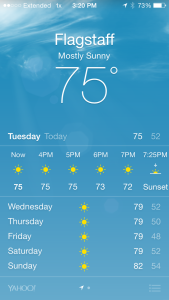 At the start of our hike, Evan and I took a selfie!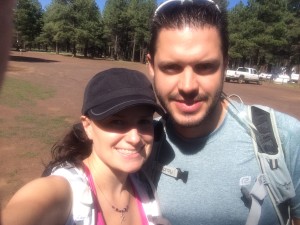 The Nordic Center has options for those who want to stay and enjoy some relaxation! You can "rough" it gently as they say in a yurt or camping hut, or you can enjoy more traditional accommodations and stay in the Ponderosa Room at the Lodge.
With a trail map in hand, we ventured off into the woods! Get ready for a picture explosion! They really do all of the talking!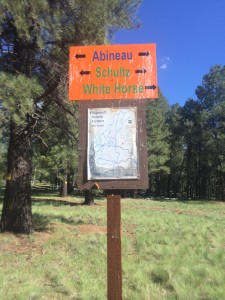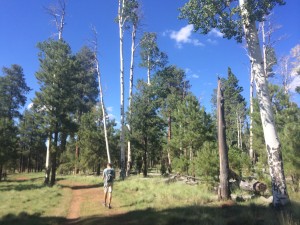 I really enjoyed the beautiful bright white aspen trees!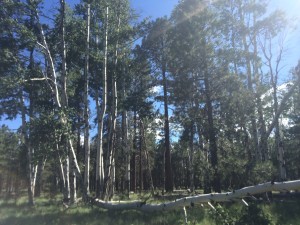 And it made it so interesting that the scenery kept changing!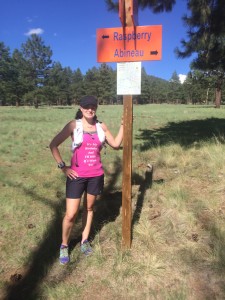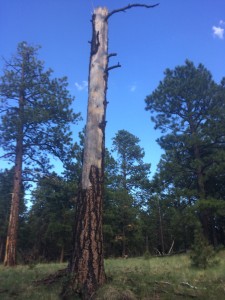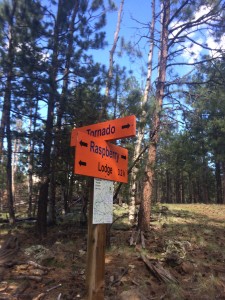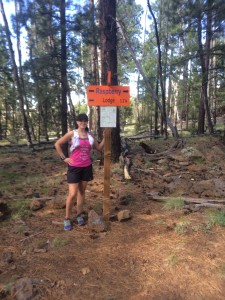 There is actually a squirrel sitting on the fallen tree. Can you see him?? 🙂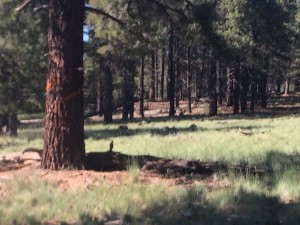 I wanted to enjoy the beauty of nature and WOW – did I ever!!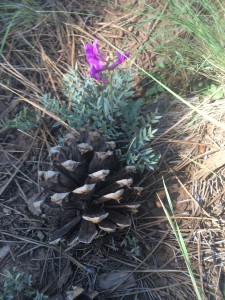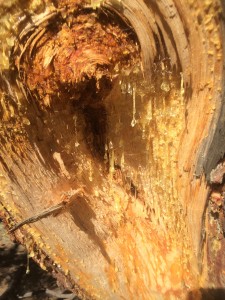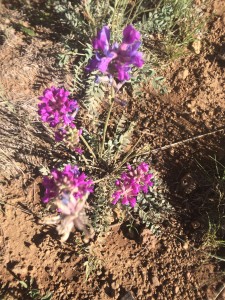 In fact I was having so much fun, I felt the need to jump in the air LOL! 🙂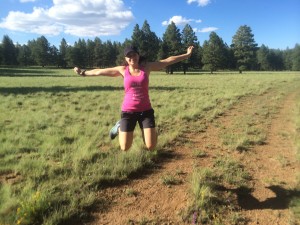 And then the exploring continued!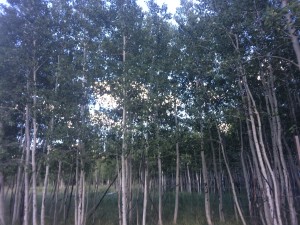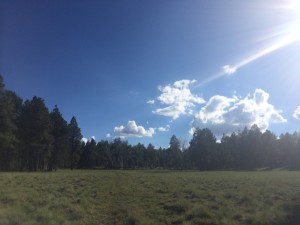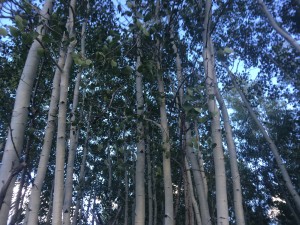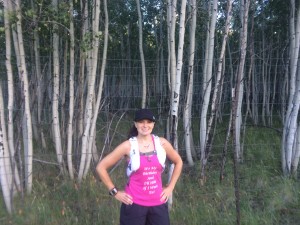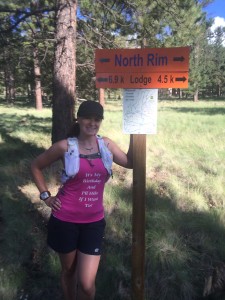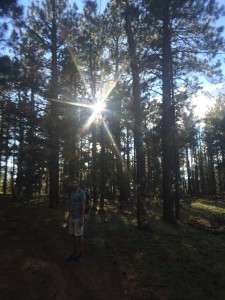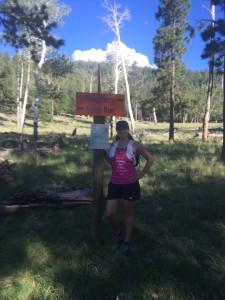 As we were taking one of our sign post pics, we saw 3 bulls in the background!! Here I am pointing to them in the background. They actually got quite scared of us and ran away! What an incredible sight to see!
This picture doesn't even do the aspens justice! The white color was so intense!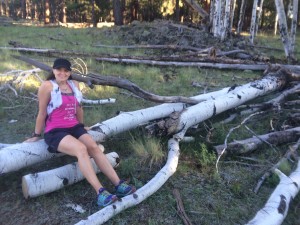 And then I felt the need to take a selfie! I just love showing off my Girls Run Fast necklace! 🙂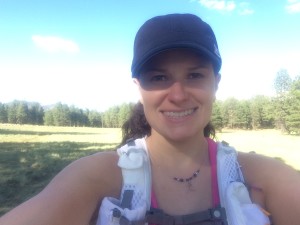 We knew that the sun would set at 7:25pm, so we made sure to head back to the car in time. After 2 hours and 38 minutes, we enjoyed our fill of the hike! I was very happy that we completed 7.34 miles that afternoon!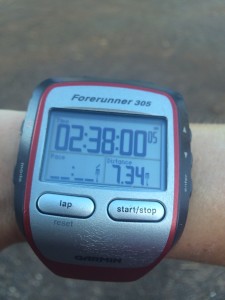 We decided it would be really nice to head to Sedona while the sun was setting! We took the Oak Creek Canyon scenic drive! I highly recommend driving this route some time if you haven't already! Apparently it's one of the Top 5 Most Scenic Drives in America (according to Rand McNally). How cool! I totally get it!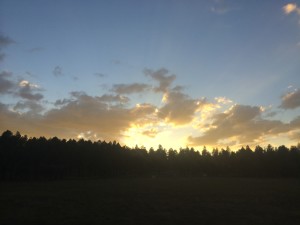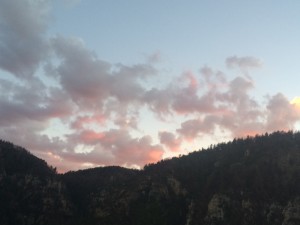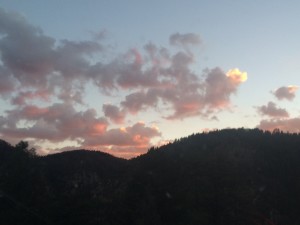 I started searching on my phone again for a place to eat and came across a place called The Field Organic Restaurant.  I loved seeing that this restaurant was all about local, organic, sustainable, and seasonal fresh food!! We really enjoyed the ceviche, the sea bass, and the eggplant parm! And of course a glass of vino was absolutely necessary after a 7.34 mile hike!!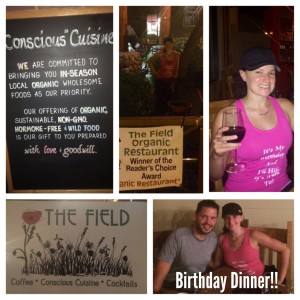 They even won best organic restaurant in Sedona in 2014!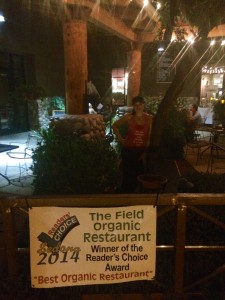 It was so fortunate that we stumbled across not only 1 fabulous, organic, healthy restaurant, but 2 WOW!!  I will definitely return to the both the Mix in Flagstaff and The Field in Sedona!
All in all, I am extremely satisfied with how my birthday went down! What can be better than taking in the fresh air, getting exercise, eating delicious healthy food, and seeing a brand new place – all with the love of my life by my side! <3 <3 <3
In keeping with the theme, I even got jewelry from my husband that reflects nature, including a butterfly and leaf necklace!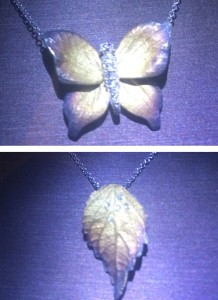 And wow did we accomplish a lot of steps according to my Fitbit!!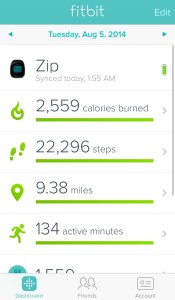 I have to also mention that I was completely and utterly overwhelmed by the insane amount of texts, calls, Facebook messages, and new likes on my Cook and Run with Kristin FB page!!! Wow, talk about the icing on the cake!!! I want to thank everyone for the enormous outpouring of love!! I am a truly blessed person!
I especially loved the pictures and special message from my mom!
On this day, 32 years ago, I met the most beautiful person in the world. Happy Birthday to my daughter, Kristin. You are my life, my best friend and my rock. Who else would put up with me. I don't know what I would do without you. Love you to the moon and back.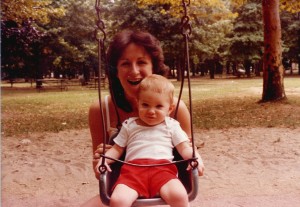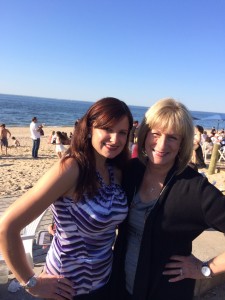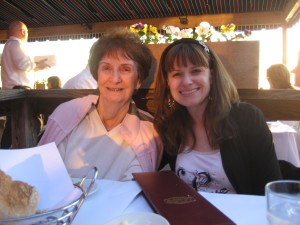 Ok, so enough about me already! TELL ME – how do you love to spend your birthday? OR, would what be your fantasy birthday?? I'd love to know! Leave me a message in the comments!!

Follow