Hello there!
It's been a while since I wrote on the blog, but last week I had put together a simple and tasty dinner at home and wanted to share!! One of the reasons I haven't written on the blog in so long has to do with the fact that I have been traveling quite extensively! It's been a LOT of fun!! As a hardcore foodie though, I may have had TOO much fun overindulging with the local food and beverages of the places I have been! I can definitely get trapped in the "When in Rome…" feeling when I'm on vacation.
I actually just used that quote above figuratively and literally! Here's me in Rome back in June enjoying pizza, wine, and tiramisu – yum!!! 🙂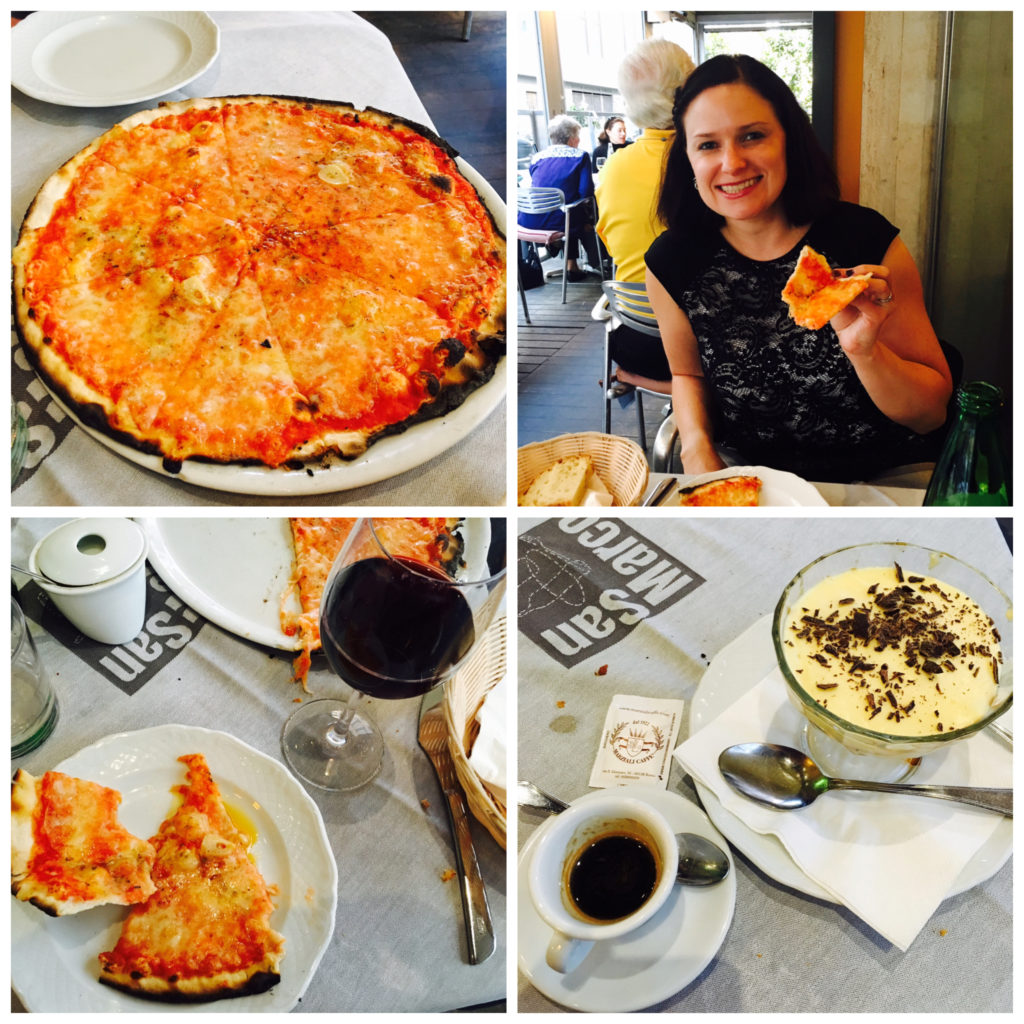 To an extent, it is OK to indulge and have fun while on vacation, but I know that for me, it's important to get back on track when I do get home again and return to my normal routines of making healthy, home cooked meals!
One of the first meals I wanted to make was what I call Shrimp Not-So-Scampi! I consider it the healthiest version of sautéed shrimp over noodles I can think of! This meal is paleo-friendly, gluten-free, dairy-free, and pretty much guilt-free! Another bonus – this meal doesn't take that long to make! And you can do some prep ahead if you like!
At the beginning of the week, I went ahead and spiraled about a dozen green zucchinis so I would have "pasta" or zoodles ready to go to for the next several days! I tend to do a striped peel on the zucchinis before I spiral them. The peel helps to keep the texture of the zucchini noodles intact and has a lot of nutritional value (including fiber) so there are benefits to leaving the skins on. I like to fool myself though (and especially friends and family who are more mainstream-eaters) that these are pasta noodles instead of vegetables, so sometimes the less green you see, the better lol.  It's really a personal preference thing so do it how YOU like it!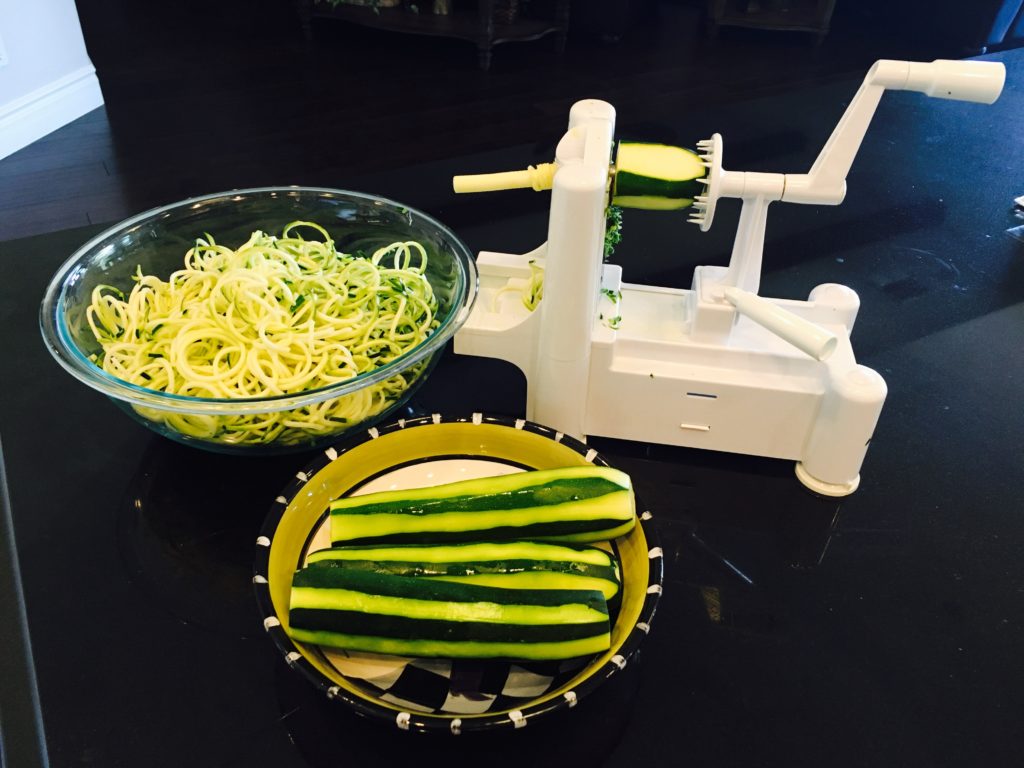 Quick tip: If you want to soften the zucchini noodles and extract some of the water inside of them, you can pour some salt on and then spin the zoodles through a salad spinner.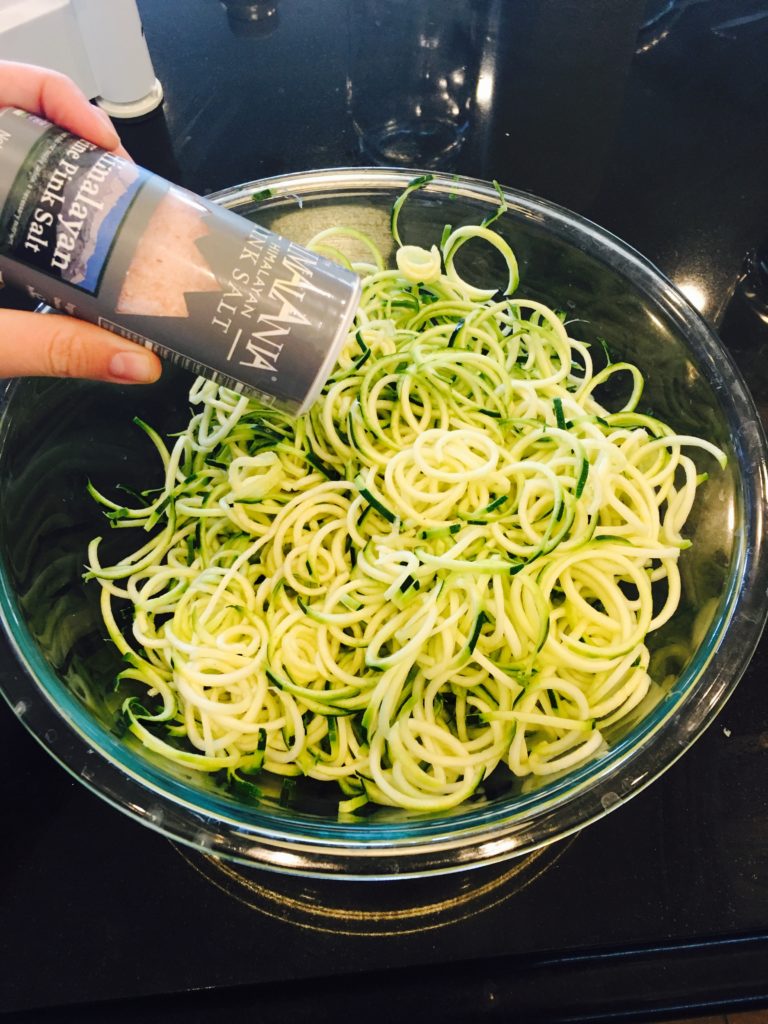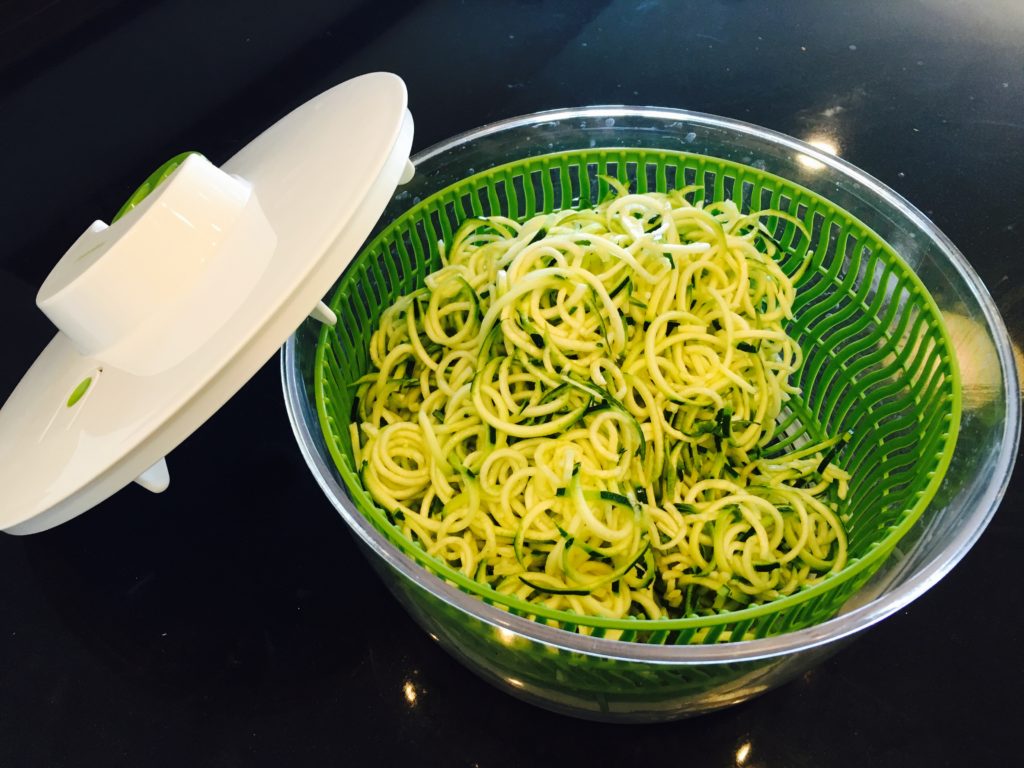 So that's what I mean by doing some prep ahead! If you buy a good amount of zucchinis and you're going to take the time to spiral one or two, you might as well spiral a big batch all at once!
Next, I looked in the fridge and saw we had tomatoes, red bell peppers, and garlic, so I decided to chop them up and start sautéing them over medium heat. Feel free to play with the amounts of chopped veggies you want to add. I grabbed a handful of heirloom cherry tomatoes, 3 cloves of garlic, and about half of a red bell pepper.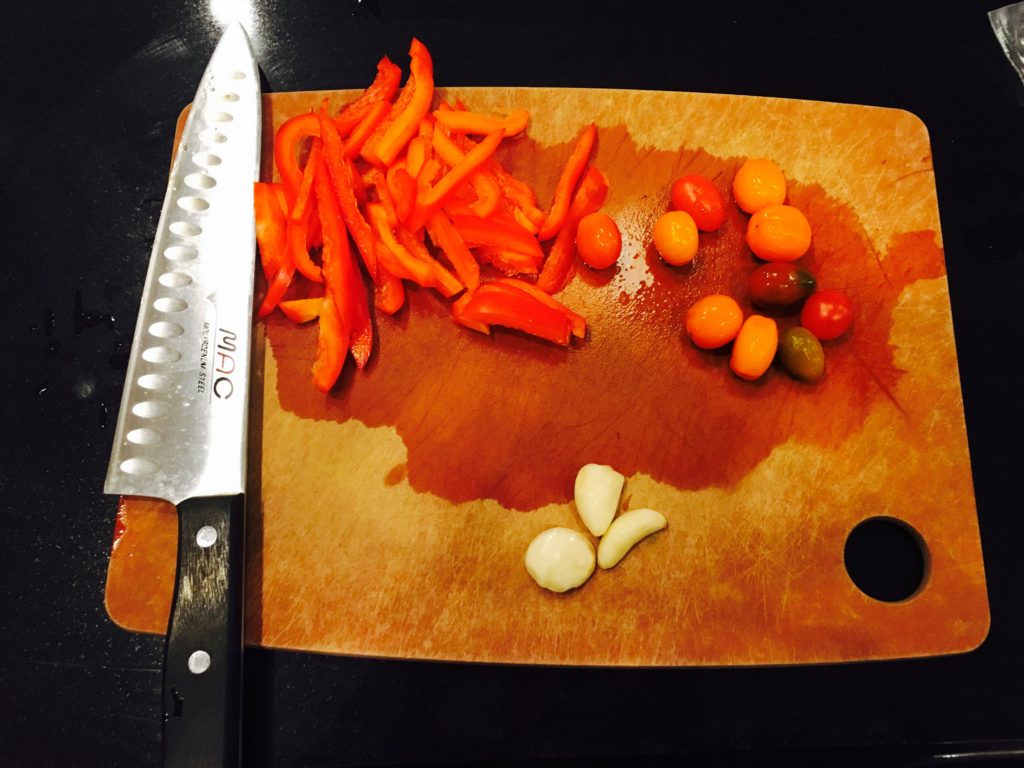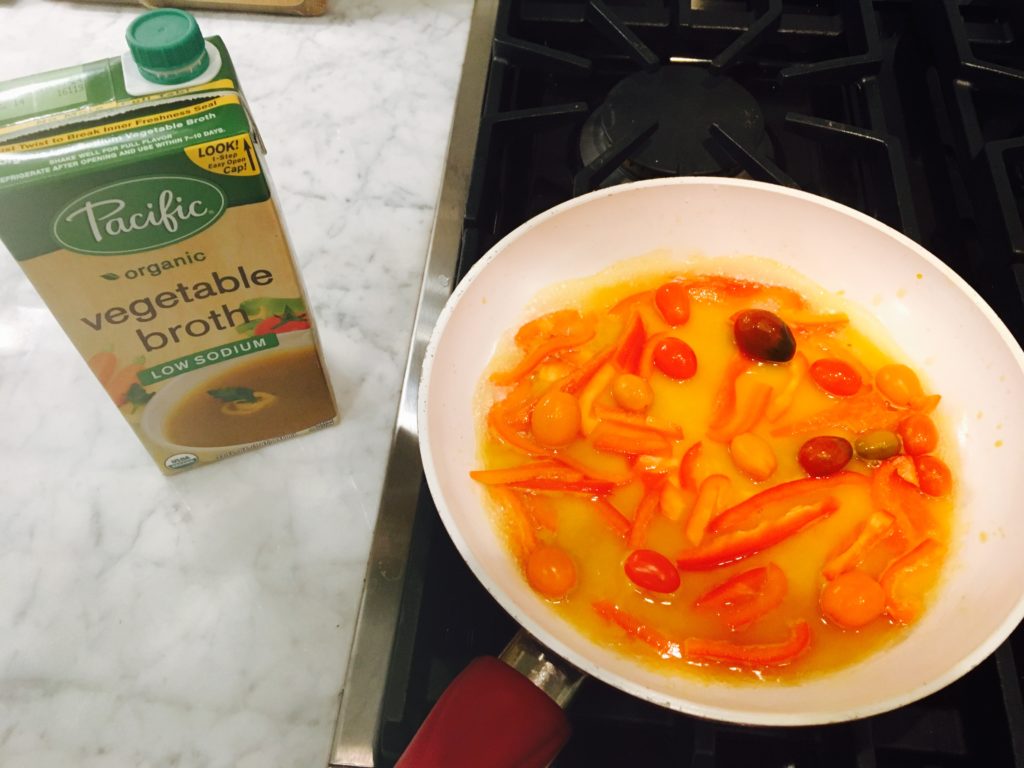 Oh by the way, I prefer not to cook with oil when I can, so I like to use a low sodium vegetable broth and it works great every time! If the liquid starts to evaporate, just keep the container nearby and give it a little refill.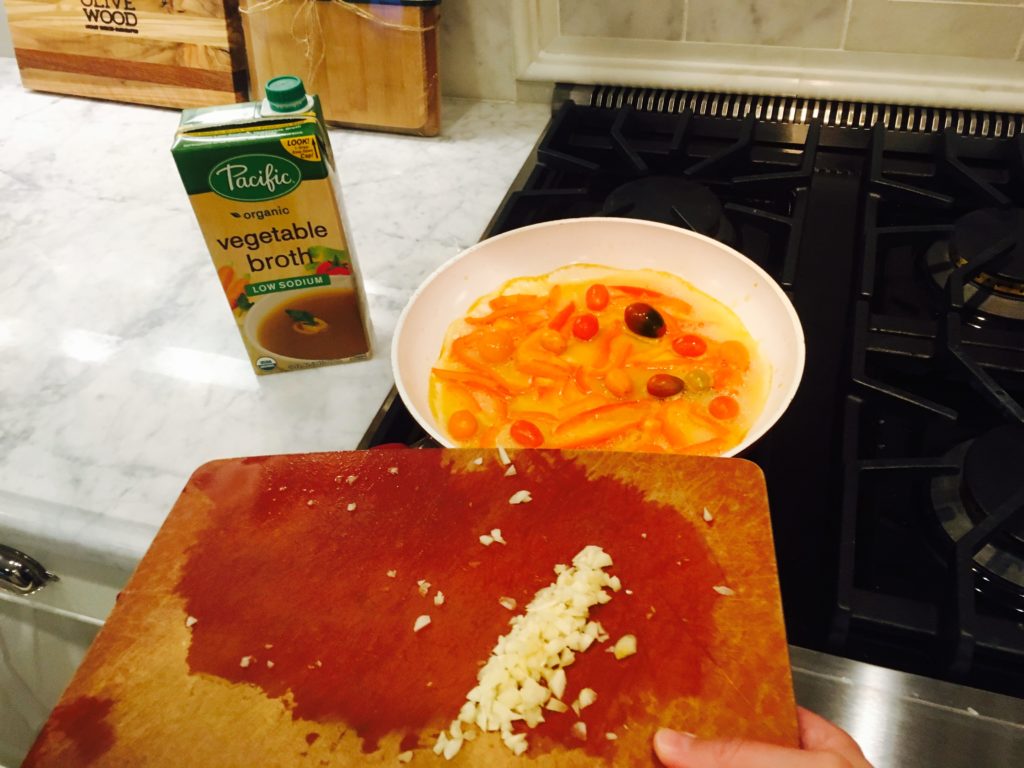 Next I added about a 1.25 pounds of sustainable, raw shrimp to the pan and cooked for about a minute.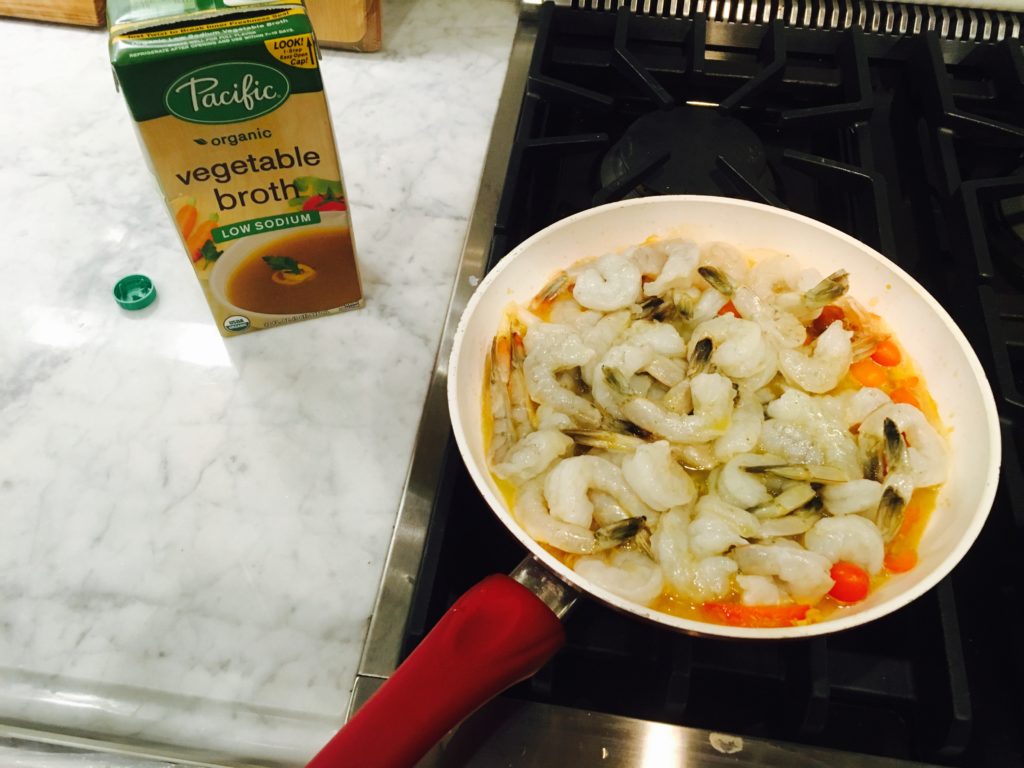 After that, I was ready to add about 2 TBS of lemon juice, and a sprinkle of seafood seasoning and basil to the pan. If you have fresh basil handy though, I would go with that!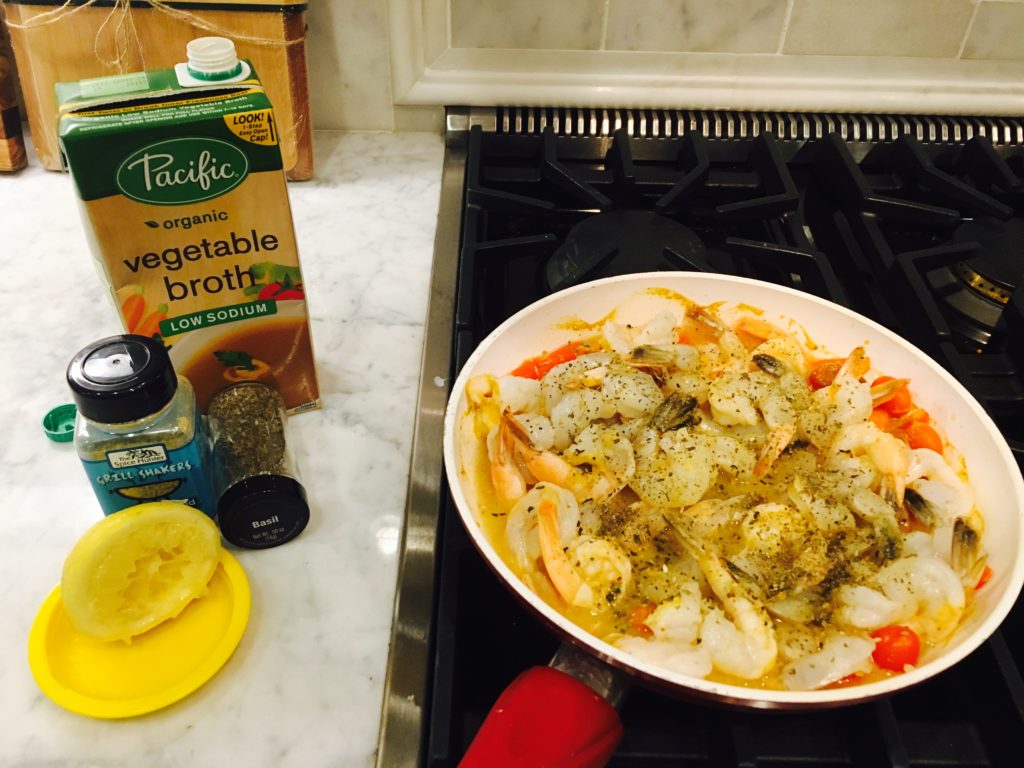 I had some fresh parsley available so I added that as well!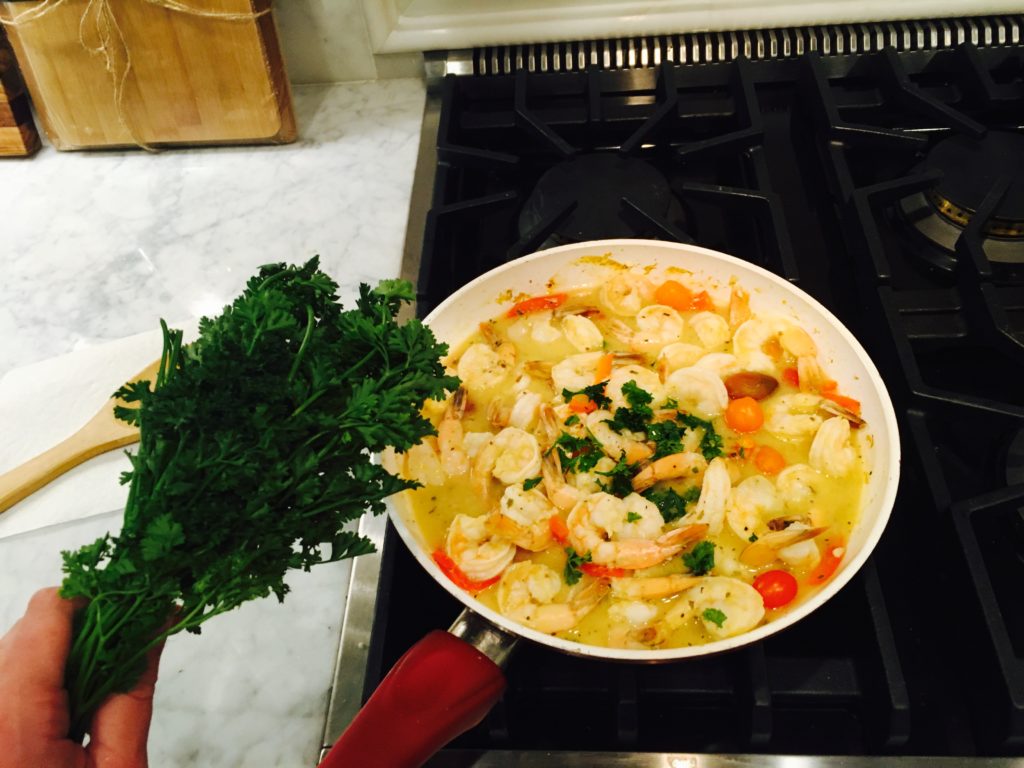 Once I added all of my ingredients, I let the pan simmer until the shrimp was cooked through. The flavors do a really good job of combining during this time.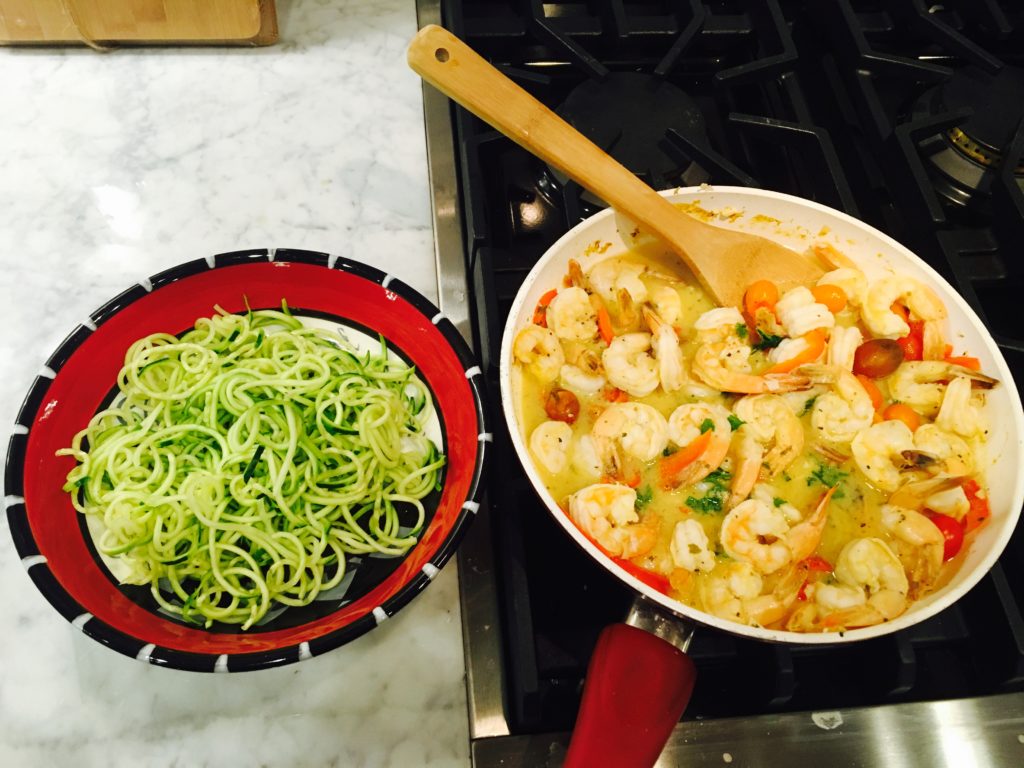 After a few minutes, the shrimp and vegetable saute mixture looked ready to go! I brought my bowl of zoodles over and scooped the mixture on and drizzled a fair amount of the juices that work as a great sauce!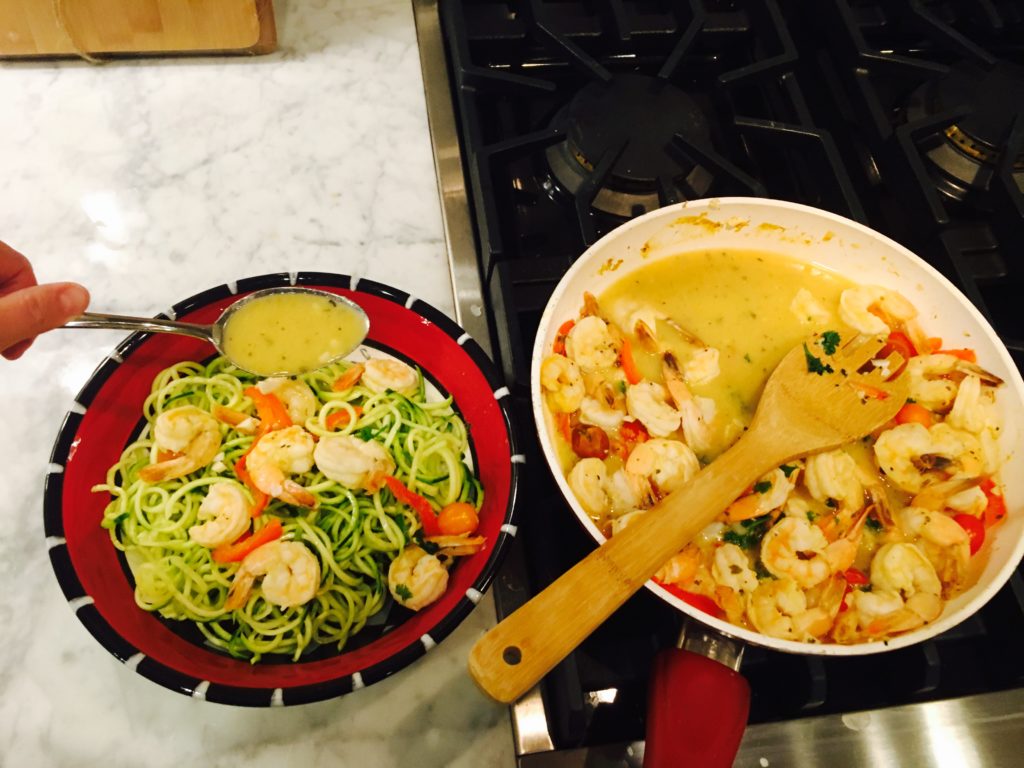 In addition to the seafood seasoning mix above, I encourage you to play with other spices including black pepper, himalayan salt, lemon seasoning, and even red pepper! Use the spices and seasonings that work for YOU!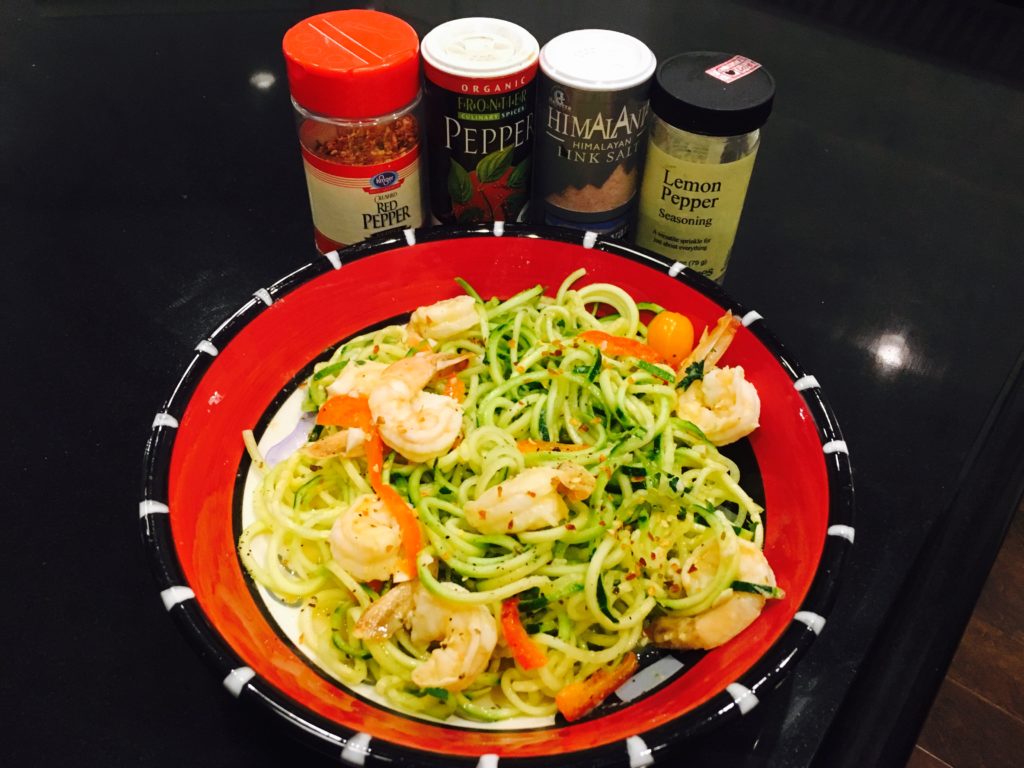 Ahhh, my final dish in all it's glory!!! This is seriously one of my favorite dinners!!!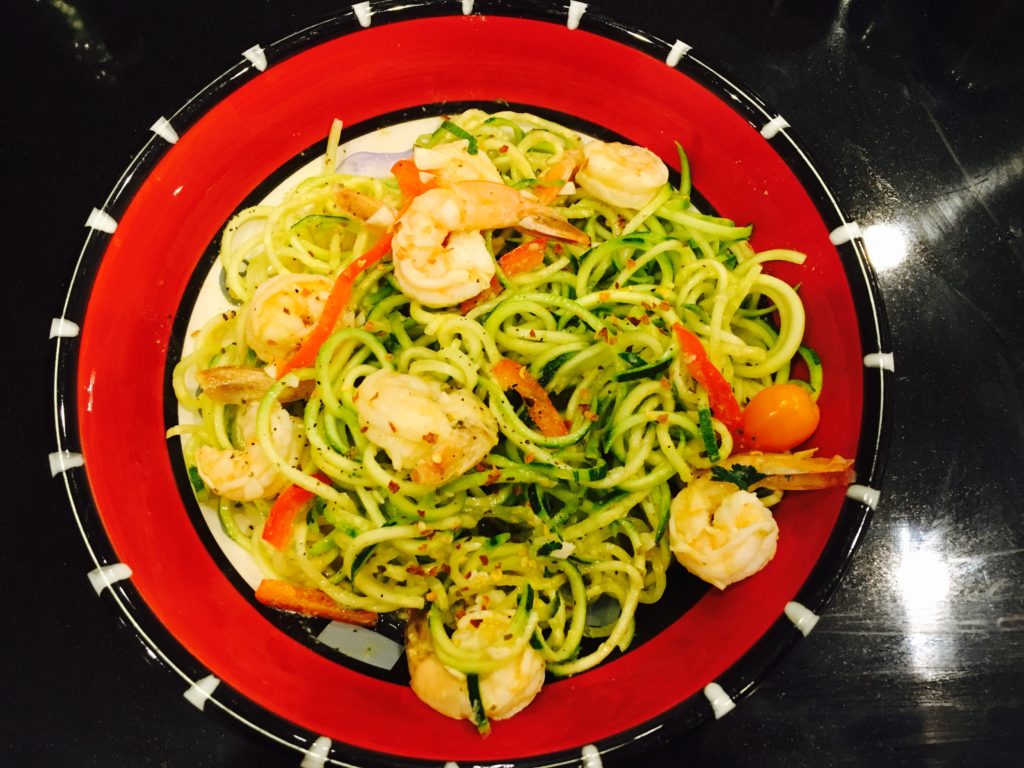 This dish made for really good leftovers too. I stored the zoodles and the shrimp-veggie mixture in separate containers in the fridge. When I was ready to have the dish again, I started with the shrimp-veggie mixture in the pan on low heat and then very briefly toss in some zoodles to warm up them as well. Comes out DELISH!
By the way, if you aren't a fish person, try roasting or sautéing chicken and following the same above! If you don't eat meat, then make it a very veggie-heavy dish and get creative with your sauces!
I hope this quick, but visual blog post inspires you to whip up an easy, healthy, and delicious meal at home! I have found that zucchini noodles make an amazing substitute for real pasta and I think they work with just about anything – including toppings for soups and salads!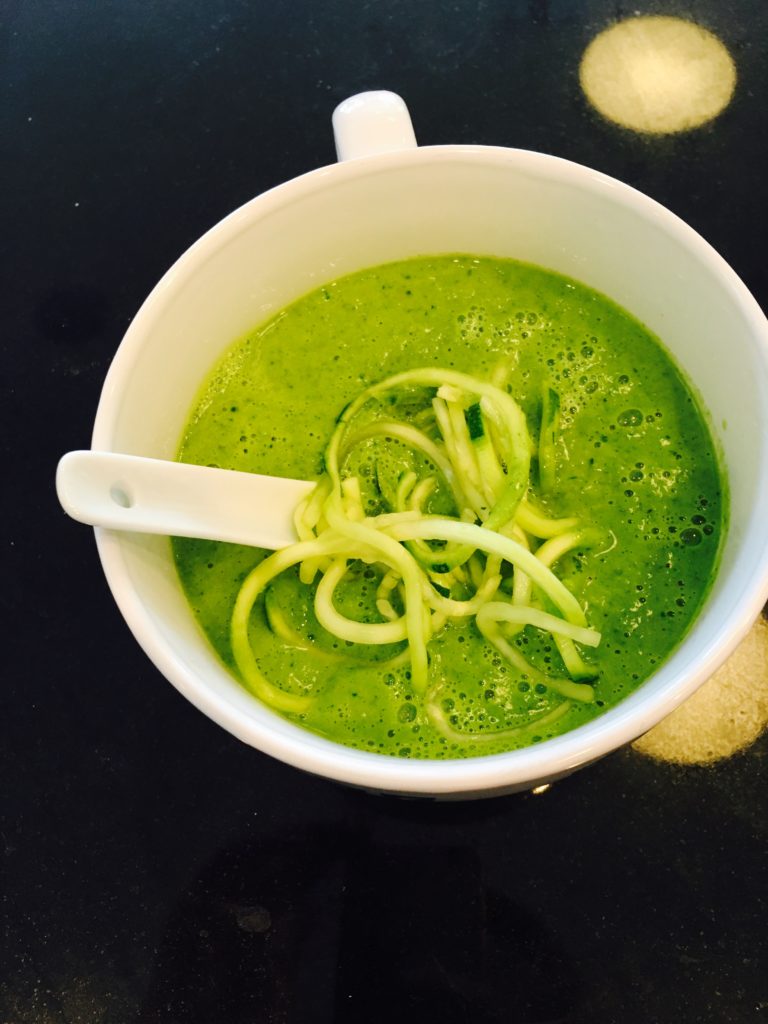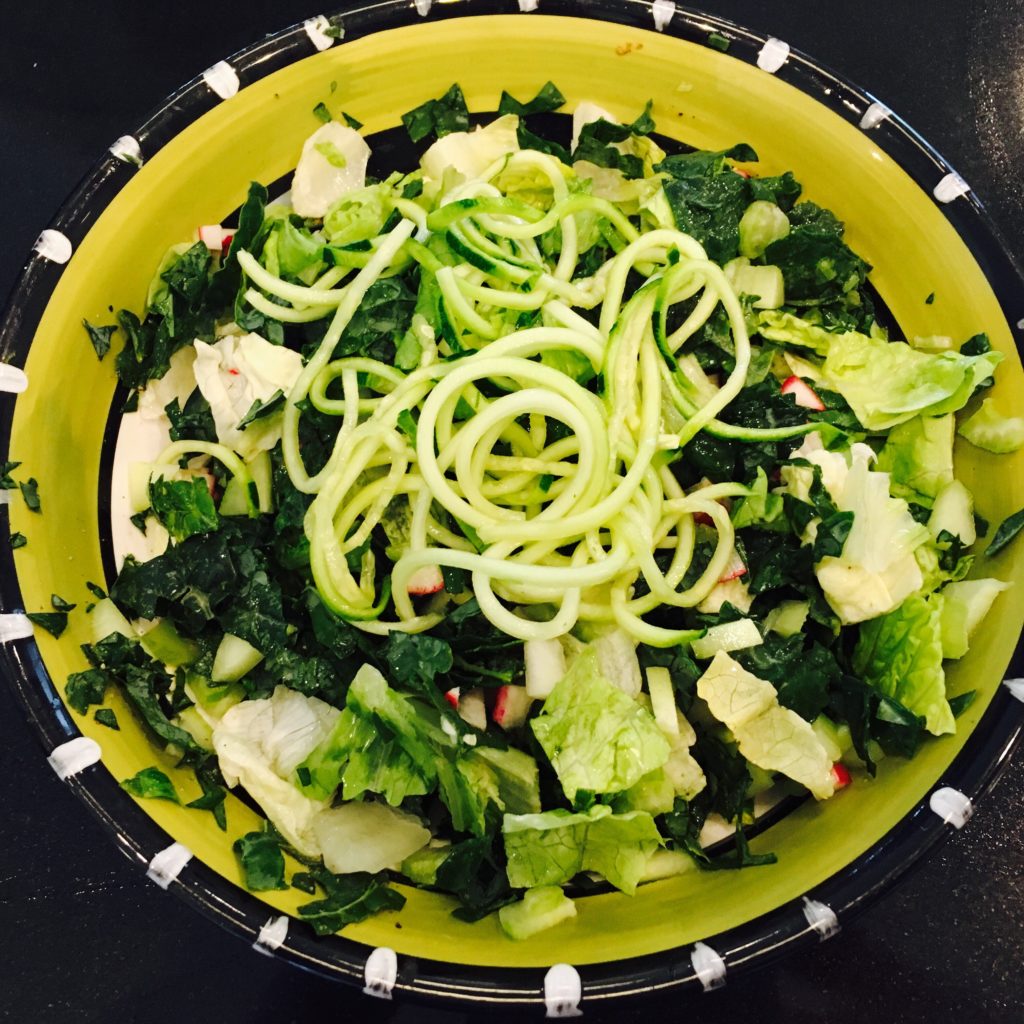 So tell me, have you tried zucchini noodles?! What's your favorite way to eat them?
And if you haven't tried them – will you NOW?!

Follow