The title of this post is taken from "Rocky Balboa VI". I thought it was fitting because I was truly inspired during today's boxing class at Title Boxing Club. There were 7 of us in the class, including two regulars – a very motivational 12 year old boy named Evan, and his proud momma, Liz. Evan is not just your typical 12 year old boy. As it turns out, he not only kicks the adults' butts in each and every class, but he does it with courage and strength, while overcoming physical restrictions due to Cerebral Palsy. Let me tell you, from what I saw, he did not miss a beat!!! I've been going to boxing classes all week at Title and I have not witnessed one adult put in as much effort as this resilient young man. Just the other day I saw some people clearly goofing around and even playing on their phones during class – really?!! What's their excuse for being so lazy? Maybe those same people should take a class with Evan and Liz and they would get their act together!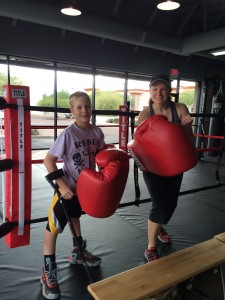 At the end of class I had the pleasure of chatting with Liz and Evan and learned so much more about how incredibly active he is! Evan is involved with Arizona Disabled Sports (AzDS) and competes in Wheelchair track racing, snow skiing and hand-cycling. He's even a 4 time Gold Medalist!!! They are both working hard to fundraise for the 5th Annual Run, Walk and Roll 5k/10k on Saturday, January 11, 2014 (www.runwalkrollaz.com). The primary mission of AzDS is to provide a wide variety of sports and recreation opportunities for individuals with all types of disability. You can do your part and join "Team Evan" when you register for the race and also by purchasing a "Team Evan" shirt (www.booster.com/teamevanazds).
Apparently this race has even gotten the attention of Ali Vincent (5th winner of the "The Biggest Loser")!!!  She's pictured here in the middle with the red long sleeve shirt from last year's event.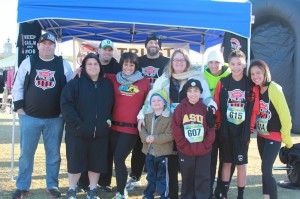 I'm excited to say that I will be participating in the race too on January 11! When I got home from boxing class, I couldn't wait to sign up!! I've also ordered my "Team Evan" shirt!! Will you be joining us at the race or maybe donating instead?!! You know you want to!!! 😉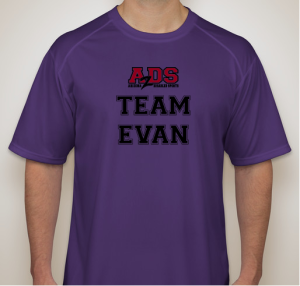 Follow