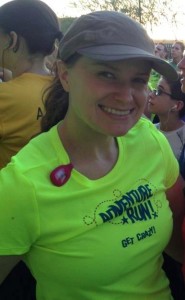 HELLO there and THANKS for visiting my page!!
I love learning about health and fitness! My educational and professional backgrounds are in business and teaching, but deep down something about exercise and nutrition has always sparked an interest in me!
My whole life I was always involved in sports! Growing up I participated in soccer and during high school I fell in love with track and cross country! I always loved sprinting but my coach saw that I had the potential to do longer runs and she was right!
High School Track Photo (Long Island, NY) 1998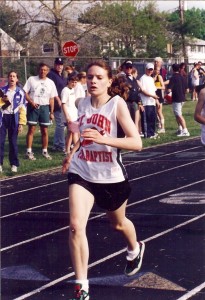 After I got married in 2006 I joined an after-work running group at Honeywell and it changed my life! The longest race I ever completed before that was a 5k but the group encouraged me to participate in the PF Changs Rock 'n' Roll Half Marathon in Phoenix, in January 2007! I became so hooked from that experience that to date I've completed 9 total half marathons and I'm always looking to sign up for more!
Post Race after my 1st Half Marathon – PF Changs Rock N Roll (Phoenix, AZ) January 2007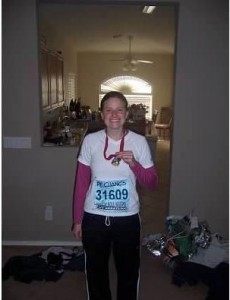 It wasn't until my mid-twenties when I discovered a love and a flair for cooking. When I went to school and worked fulltime I only knew how to prepare mostly processed foods. Hot dogs, macaroni and cheese, and frozen dinners are some of my least proud examples. But when I lost my teaching position due to budget issues in 2009, I decided to take the time to actually learn how to cook from scratch and once again my life was changed! It's been my mission to learn how to cook healthy. I've been acquiring a huge variety of cookbooks and I take cooking classes whenever I can! My definition of healthy has changed over the years  – but my most important lesson is less processed food and more whole, real food.
Elaina Love's Pure Joy Academy, (Phoenix, AZ) February 2014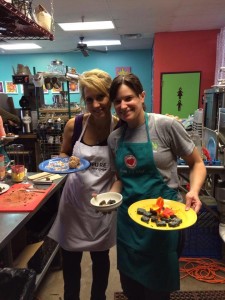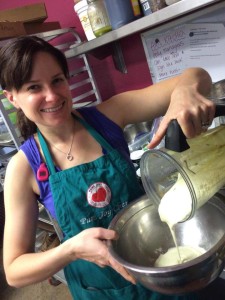 I'm also excited to tell you that my husband, Evan, started running with me at the beginning of 2014!! We frequently run races together on the weekends and attend running groups together!! Running has become so much more fun and special with him by my side!!
Xterra Trail Race (Black Canyon City, AZ) March 2014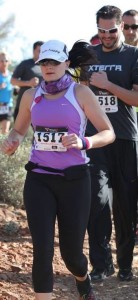 Arcadia Family 5k (Phoenix, AZ) April 2014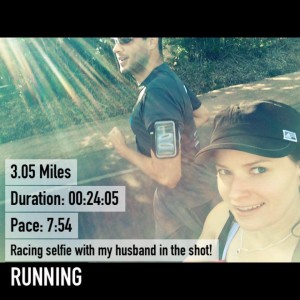 Race for the Animals 10k (Portland, OR) June 2014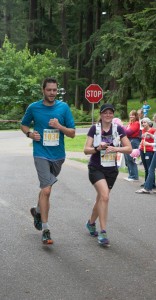 Running for Brews (Social Running Group in Tempe, AZ) March 2014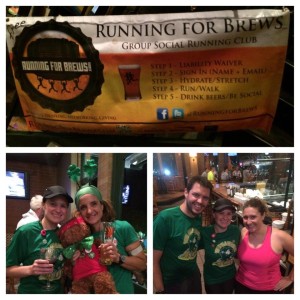 #RunEatTweetAZ (Runner/Blogger Run Club – Phoenix, AZ) July 2014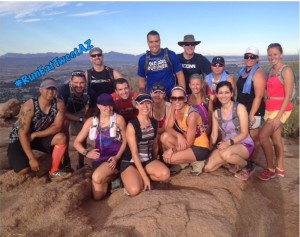 I'm not here to preach to eat a certain diet – whether you choose to eat meat, vegan, raw vegan, gluten-free, or Paleo is up to you! I actually love to experiment with all different types of dishes! What I do want to encourage is that you buy and cook with the best quality, organic, sustainable, and most whole foods that you can! I hope you enjoy the blog! Please feel free to send me your questions and leave comments! It's always so wonderful to know what people want to learn more about!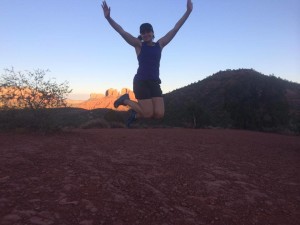 Also, you can visit my Facebook page, Cook and Run with Kristin and you can find me on Instagram (@cookandrunwithkristin) and Twitter (@cookrunkristin).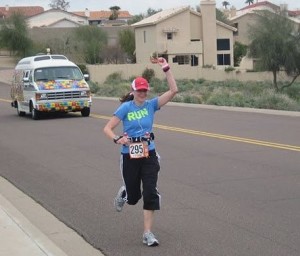 Follow