"Rollin', rollin', rollin' on the river
Rollin', rollin', rollin' on the river…"
Thanks to my awesome #RunEatTweetAZ group, I am rollin' in style with the new M80 Roller that I was given to try out and review!! #RunEatTweetAZ is a great local running group that hosts events at least twice a month in the Phoenix area and I just happen to be a CRO (Chief Running Officer)! We like to say we are runners with a social media problem lol!!
Anyways, back to the M80 Roller. Let me tell you – It's not your typical "foam" roller! The unique grooves are designed to give a deep tissue therapy – deeper than traditional foam rollers!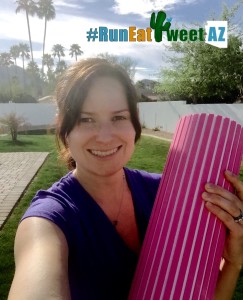 Also good to know about the roller – owner/creator Matt Olaya guarantees that the roller will keep its shape! In addition, the M80 is waterproof (although they recommend hand washing it and have the directions to do on their website).
Another unique and very fun bonus about purchasing an M80 Roller is that you have 30 colors to choose from!! With that many choices you can surely find one that fits your personality!! These rollers make great gifts because you can pick a color that will suit the person's taste, making it more personal!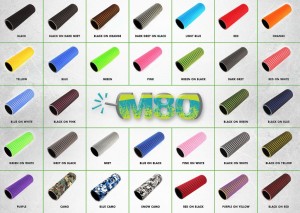 So what do I personally like about the roller?!
I like the size and shape of it! It's half the size of my traditional roller which makes it easier to travel with! And since the center is hollow you could roll up some clothes and shove them in there to save space in your suitcase lol!!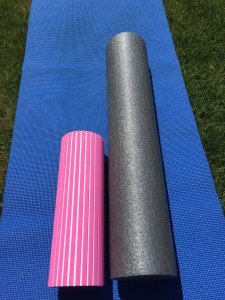 I love the color!! This pink really does pop!!!
When I received the roller, I immediately jumped on it! When I rolled over those real sensitive spots – wow did I see stars!! But, that's GOOD!! That means I really am getting a deep tissue myofascial release!! I even brought out my traditional foam roller and compared the same tender spots – not even close!!!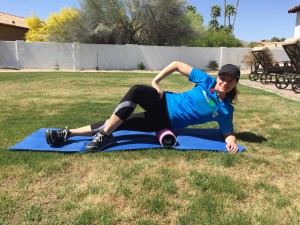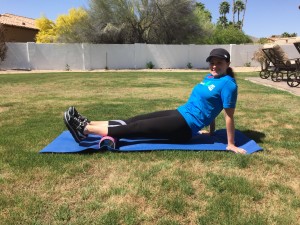 As an athlete and especially as a runner – I beat myself up. A LOT lol. I have dealt with foot and knee injuries recently, and I believe that lack of stretching was a factor in those injuries. This M80 Roller can help me loosen knots and tight muscles – increasing my range of motion and helping my body recover properly!
I am a firm believer in small businesses! My husband is an entrepreneur and his hard work and success has put a roof over our heads! M80 Roller was founded by a young man who saw a problem with traditional rollers and created a product to solve it! Let's help spread the word for this growing company!!
I love that you can customize your own roller!! This is super helpful to anyone with a logo who is building their brand! Hmm, I think I see visions of "Cook and Run with Kristin" on a roller – yeah I like it!! Click on the M80 Roller website for more info!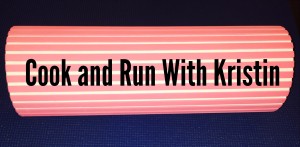 So now you are probably thinking – how can I try one?! You can purchase the roller you see here on the M80 website for $40!
But this week you are in luck because #RunEatTweetAZ is hosting a GIVEAWAY!!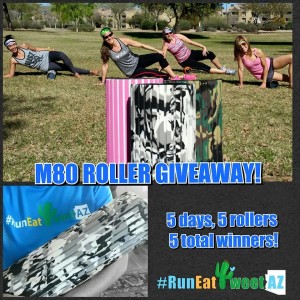 Starting April 6th thru April 10th, we'll give 1 roller away per day. That's a total of 5 rollers!!
Check the #RunEatTweetAZ Facebook page for details on how to enter! GOOD LUCK!!! And if you don't win, I still highly recommend this product for your deep tissue needs! 😉

Follow