"MAKE YOUR BODY HAPPY, HAVE A HUPPY!"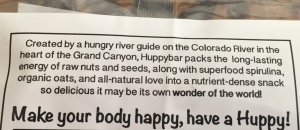 This is the motto of Huppybar, a Flagstaff based company that makes energy bars with real ingredients!! Most of you know that I am super picky about processed foods and ingredient labels, so you can imagine how happy I am to find an energy bar that DOES NOT contain funky scientific words!! Huppybars are 50% organic and they are sweetened with organic brown rice syrup and local honey harvested in Flagstaff, AZ. In addition, the bars also DO NOT CONTAIN: corn, soy, dairy, or cane sugar!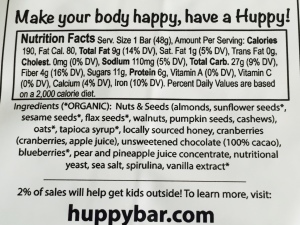 Lyndsay Hupp, a river guide on the Colorado River, created these bars out of a need for craving real nutritional sustenance. She could never quite find what she was looking for in a typical energy bar, so she decided to create one for herself! Fellow guides and river clients started to take notice of these bars she was bringing on trips and they wanted to try them too! She realized she was on to something when they received such a glowing response!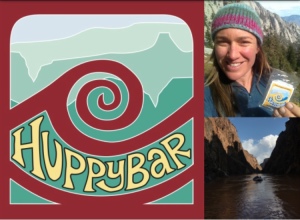 (Photo courtesy of Huppybar.com)
Another thing that Huppybar realized is that, "If taking time to prepare healthy meals isn't always an option for some people, then perhaps we can increase convenient options that are healthy." I believe that it is VERY important for more convenience foods to be healthy. I try to consume as many homemade foods in my diet as possible (ketchup, BBQ sauce, salad dressing, snacks, etc), but even I need to rely on convenience foods every once in a while and having a bar like this on the market is such a breath of fresh air!
So how did I come about trying Huppybars? My first introduction was from my friend Corine, aka Zucchini Runner, who gave me a sample after a long trail run we did together on South Mountain. Most recently they sent samples to various CROs (Chief Running Officers) of my #RunEatTweetAZ group! Corine is another picky eater just like me, so it told me something right off the bat about the excellent quality of these bars!
I chose Coconut Date Ginger and Chocolate Berry Love to review, but they also have chocolate java, apple cinnamon raisin, and pecan orange spice flavors!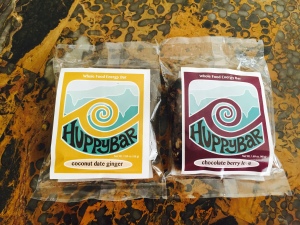 I love that you can really see all of the nooks and crannies of the bar!! This is what you get from a handcrafted bar instead of a highly-processed, mass-produced one!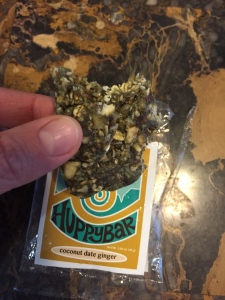 I brought Huppybar as a snack during a hike through the West Fork Trail in Oak Creek Canyon this past weekend! I have to say I was the only who wasn't totally starving after the hike! It really did fill me up!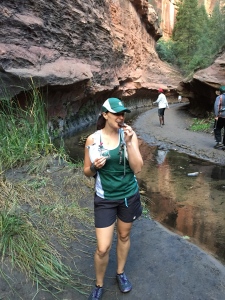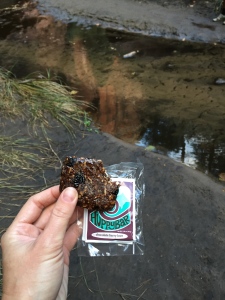 In addition to the delicious and nutritious bars they make, Huppybar is committed to helping kids get out and be active! As of July 1st, they implemented 2 For The Youth, where 2% of their sales will be given to non-profit organizations that focus on getting children exposed to the great outdoors! Huppybar believes that being active is not only beneficial for physical health, but also for mental, social, and emotional health – and I totally agree!!
So how can you try this amazing bar?? You can purchase them right on the website using their Buy Bars link, and you can find them at a few different retail spots located in Sedona, Flagstaff, and the South Rim of the Grand Canyon.
Also, there is a GIVEAWAY going on right now!! One randomly selected winner will receive a box of 12 whole food, all natural Huppybars!
How to Enter:
1) LIKE the post regarding the giveaway on the #RunEatTweetAZ Facebook page.
AND
2) COMMENT with when/how you'd use Huppybars! (pre run fuel, post run recovery, maybe even at the gym!)
There will also be a Bonus Entry for those who SHARE the post!
The winner will be notified on the #RunEatTweetAZ Facebook page by Friday, October 31st, 8am (AZ time). Deadline to enter is Friday by 7am.
*This promotion is in no way sponsored, endorsed or administrated by, or associated with Facebook*
Show Huppybar some social media love and give them a follow!
Good luck with the giveaway!!
Good News! If you missed the giveaway but still want to try Huppybar (who doesn't right?!), then during the month of November, use promo code: RunEatTweetAZ for 15% off!!!
Tell me in the comments, have you or do you want to try Huppybar?! Also, do you pay attention to the ingredients on a bar that you just grab on the go?

Follow