I have always been intrigued by the watersport SUP (Stand Up Paddleboarding)! Most of you know that I love yoga, so when my friend Rhiannon Ritchey (http://rhiannonsyoga.com/) told me that she teaches Yoga/SUP classes – I became outright giddy!!
It's so hot in Phoenix right now that admittedly, this normally avid runner has been shying away from running in the heat. I have lots of friends that are keeping it going, but they wake up by 4am or 5am to do it and I'm a terrible morning person lol!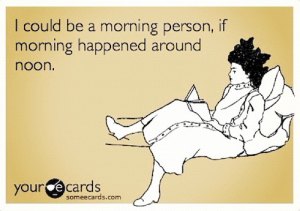 I've really been filling up my exercise time with indoor activities, (i.e. yoga classes at various venues, PiYo workouts at home or strength training with gym equipment) so the idea of exercising outside right now and not collapsing from heat stroke is a thrilling concept!!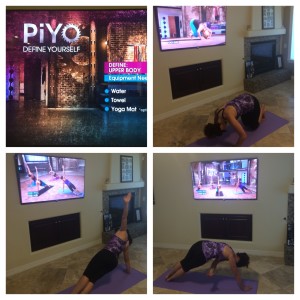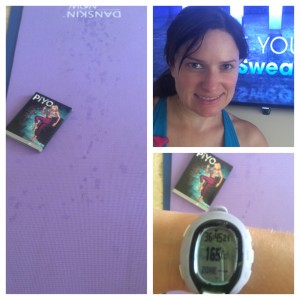 Side note: If you want to know more about PiYo, let me know because I am a Beachbody coach!
So anyways, let me tell you more about Rhiannon! She is a 200 hour certified yoga teacher who has had a personal yoga practice for the past nine years. I had the pleasure of meeting her at Butterfly Wonderland in Scottsdale where she teaches yoga once a month on Tuesday nights (http://www.butterflywonderland.com/education-workshops-080514.html).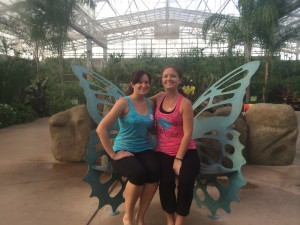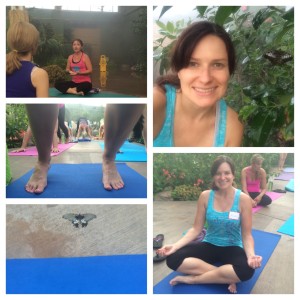 It was at the Butterfly Wonderland that she informed me of the Yoga/SUP classes that she teaches on the weekends at both Tempe Town Lake and also Lake Pleasant. Lake Pleasant is much closer to me so I opted to take a class there! She is normally there on Sunday mornings from 8-10am but her class on that upcoming Sunday filled up before I could get spots for my husband and I! It all worked out though because she decided to open up a Saturday class just for us! I promptly put up a Facebook post about the Saturday class and recruited my good friend Nicole!
On Saturday morning we arrived at Lake Pleasant ready to SUP!
The great thing about Rhiannon's classes is that you only need yourself, a bathing suit with comfy clothes that can get wet, a water bottle, and sunblock! The SUP boards and paddles are included. She works with Go Paddle AZ to get the paddles and boards rented for everyone. Rhiannon gave a quick tutorial on how to SUP and then we were ready to go!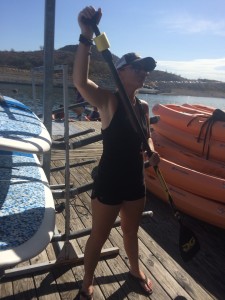 When first leaving the dock, it's best to start on the knees so that you do not accidentally fall off and hit your head!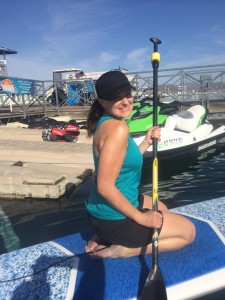 Once I was a safe distance, I got myself standing on the board for the very first time! And on the first try yay!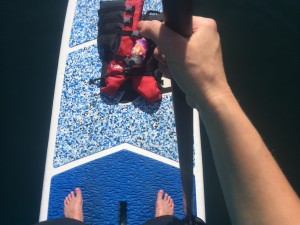 We paddled across the lake and arrived at our yoga spot, where Rhiannon has a place for us to anchor our boards for a safe yoga experience.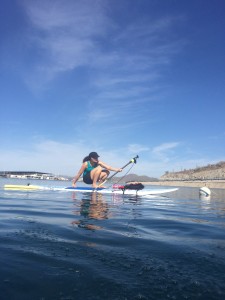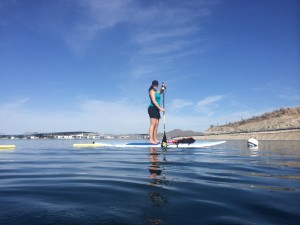 Once everyone was attached, Rhiannon got our yoga experience going!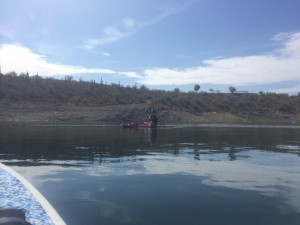 I snapped a few pictures of Evan and Nicole practicing their yoga!
Here I snapped an "oops I fell in the water but it felt wonderful" selfie!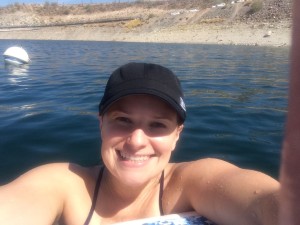 Evan's looking good in plank and bridge pose!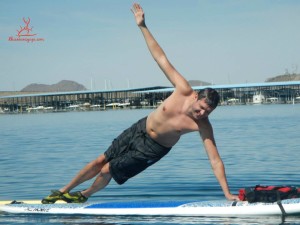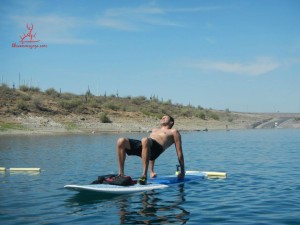 I'm feeling confident in side plank and warrior one!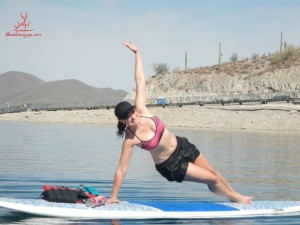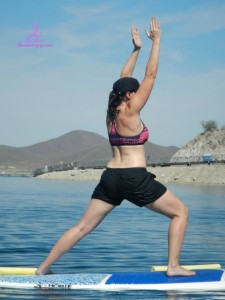 Nicole is rocking her side plank!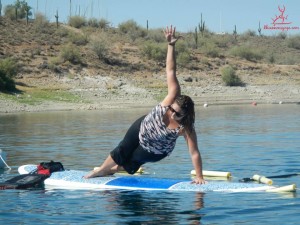 Namaste time!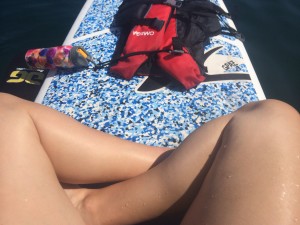 Three happy Yoga/SUP'ers!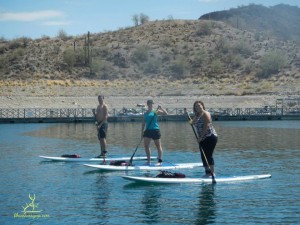 After 2 wonderful hours of paddling, practicing yoga on the boards, and playing around in the water, we headed back to the dock!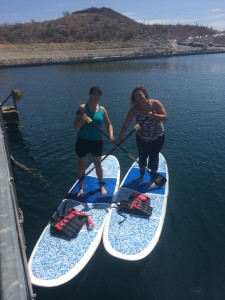 We truly had a blast!! Love this group!!!
After a relaxing lunch right there at the lake, we decided to rent SUPs on our own through Go Paddle AZ and enjoy another 2 hours that afternoon on the lake!
We even practiced some more yoga!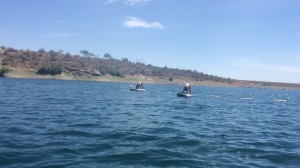 Down dog!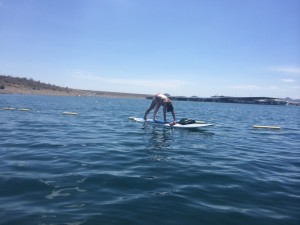 The Warrior series!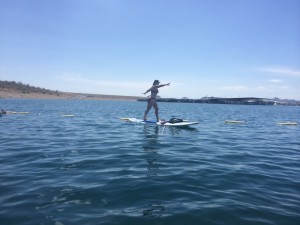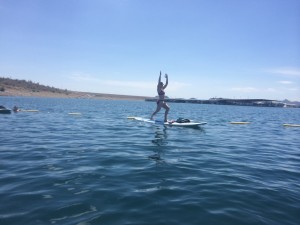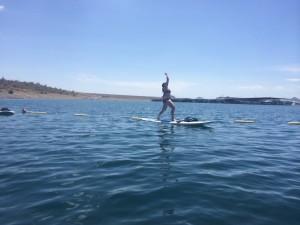 Then we just had lots of fun striking poses!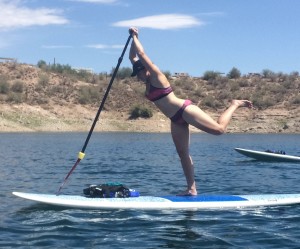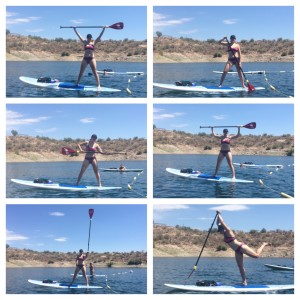 Finally by 4pm we headed out, but not before Nicole and I took a selfie!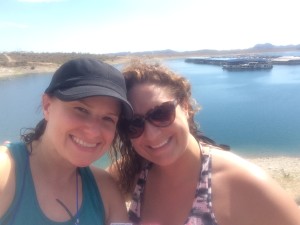 And did some final yoga poses!
For more information about Rhiannon's yoga and Yoga/SUP classes, please contact her here:
(480) 526-1207
rhiannonsyoga@gmail.com
Do you love yoga or SUP?! Have you tried both together?! Do you want to try it now after seeing these pictures?!! Let me know in the comments below because I LOVE hearing from YOU!! 🙂

Follow