Have you tried NuttZo yet?! I don't know about you, but nut butter is a MAIN staple in my house! This brand happens to be organic and according their website, "The Only Seven Nut and Seed Butter on the planet!"
NuttZo offers 3 different flavors, including Original, Powerfuel, and Chocolate, with 7 nuts & seeds in every jar, in both crunchy and smooth. Here's a breakdown of the flavors. Graphic is courtesy of NuttZo's website.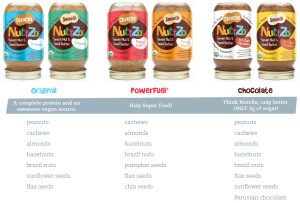 So how did I come about trying NuttZo? Well as it turns out, they sent samples to various CROs (Chief Running Officers) of my #RunEatTweetAZ group!
Look at the generous amount of stuff that came in the mailI! I received 1 huge jar (16 oz) with the crunchy Power Fuel flavor and 15 to-go (0.5oz) packets consisting of all 3 flavors!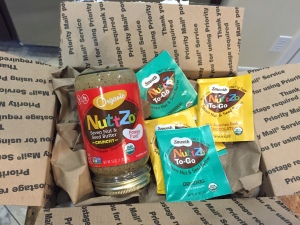 One of the things that I really like about NuttZo is the ingredients panel. The jar lists: organic cashews, organic almonds, organic brazil nuts, organic flax seeds, organic hazelnuts, organic chia seeds, organic pumpkin seeds, and sea salt. I have a real pet peeve when I see funky scientific words on a label, so you can imagine my elation at seeing REAL words only!!! Now this is a product I can gladly bring into my home and consume with delight!!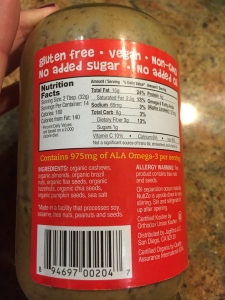 So how did I try NuttZo? In many different ways actually! And for more ideas, check out the recipe page on the NuttZo website.
I first tried NuttZo at the gym after 10k run on the treadmill and a 10 minute PiYo stretch session.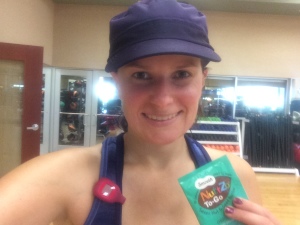 The to-go packets are handy, however, I'm really glad that I was near a sink to clean off my hands and my face trying to get the nut butter out of the packet lol. As a result of that experience, I realized that the to-go packets would be more ideal for situations like traveling, camping, and even the overnight Ragnar race. Trying to rip one open during a run and consuming it would prove to be difficult and very MESSY lol! But if you are in a setting where you have the time to knead it with your hands (like the back of the packet suggests) and use a knife to spread it around – then by all means it would be great to have to make your own PB&J on the go (and then you know you can trust the ingredients!).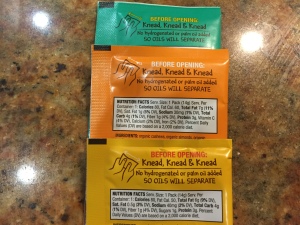 The next time I tried NuttZo was on a banana after returning home from a run. I made banana "sandwiches" where I had the chunky flavor from the jar spread in-between 2 bite size pieces of banana. I added cinnamon too!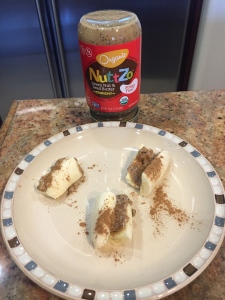 These banana sandwiches were AWESOME. Seriously, look how happy I look in my banana sandwich selfie lol! Another morning, I actually did the same thing as a pre-workout snack instead of a full blown breakfast because I knew I had only a short window of time to fuel my body and get a workout in before going on with the rest of my day. I found it to be a quick and easily digestible snack!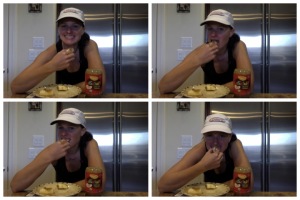 Then on a nice relaxing Saturday morning, I decided to make my 4 Ingredient Paleo Pancakes. The recipe calls for almond butter so I decided to try the chunky flavor from the jar! They came out great!!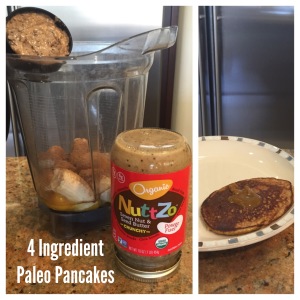 Most days of the week I usually make my Shakeology shake first thing in the morning. I added a tablespoon of the chunky Power fuel flavor and with just some frozen banana and my Chocolate Vegan Shakeology, and it came out great! I loved the texture of it!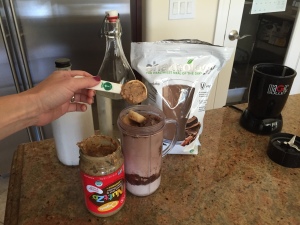 A quick and healthy dessert that I really enjoy is sliced apples with a dab of almond butter, cinnamon, and honey. I tried the Power Fuel flavor and it was absolutely delicious!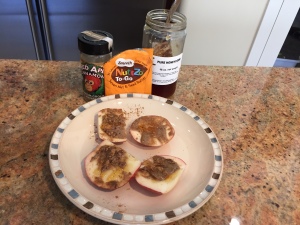 Another yummy breakfast idea is the classic toasted English muffin! I toasted a sprouted grain, Ezekiel muffin and spread the Peruvian Dark Chocolate! Hmmm, good! This also works as a dessert idea too!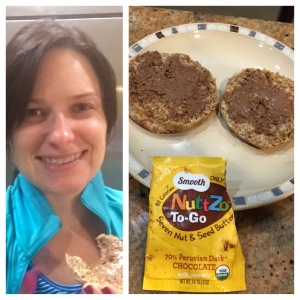 Are you salivating yet?! Are you ready to stop what you are doing right now and run out and get a jar lol?! Well, I have GOOD NEWS!! You have the opportunity to win a jar and 20 to-go packets!!
For the giveaway: Head over to Run Eat Tweet AZ's Facebook page, "like" and comment on the post, and you will be entered to win! Note: The deadline to enter is October 6th!
*This promotion is in no way sponsored, endorsed, or administered by, or associated with Facebook*
Show NuttZo some social media love and give them a follow!
Good luck with the giveaway!! If you'd like to purchase any of their products, they can be found in stores or purchased directly from their website.
Tell me in the comments, have you tried NuttZo yet?! Are you a nut butter fan?!

Follow