On April 26, 2015, I participated in the "world's kindest triathlon," known as Wanderlust 108, here in Phoenix! The Wanderlust website sums up the description of this all day event perfectly:
"Wanderlust 108 is a triathlon unlike any you've ever known. This "mindful triathlon" brings three events together in your favorite local park: a 5k run, an outdoor yoga experience, and a guided meditation — but with a twist. Unlike most triathlons, we place community above competition, inner peace above power, and self-awareness above strength. We prefer slow food to fast run times. For us, winning is measured in laughs shared and new friends made."
Normally, I am a very competitive person (whaaat? who me 😉 ), however, due to my recent foot and knee injuries, the idea that this event was NOT focused on competition made it very appealing! This past month I just got approved to get back into low-impact activities like walking, biking, hiking, and yoga. In other words, everything I like to do, but running. So being encouraged to walk the Wanderlust 5k was a good thing for me!
I spent the day with with friends (old & new) and I did my best to take pictures of the event to make sure I could demonstrate the concept with plenty of visuals!
Here's a display of the event schedule: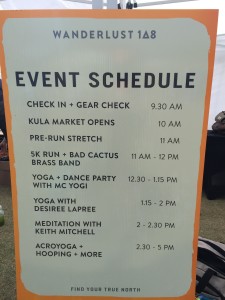 My friends and I arrived at the venue, Tempe Diablo Stadium, around 10am. We needed to check in our bags and yoga mats in by 11am for the start of the 5k.
Here's a look at the crowd!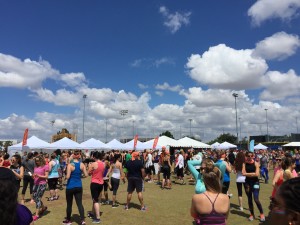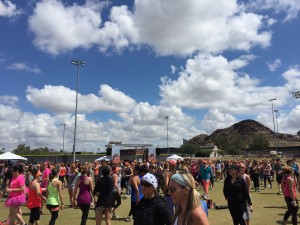 After we checked our bags in, Nicole, Cristina, and I headed over to the Wanderlust sign for a selfie and other fun pics! We were excited to sport our brand new orange Wanderlust headbands! It came with our bibs!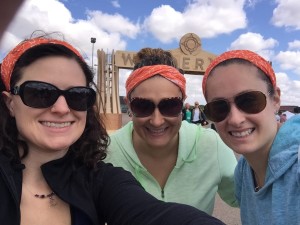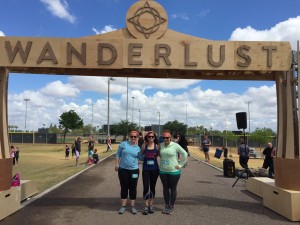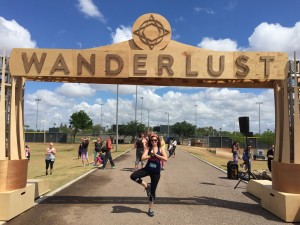 Here is the crowd heading to the Wanderlust sign for the start of the 5k.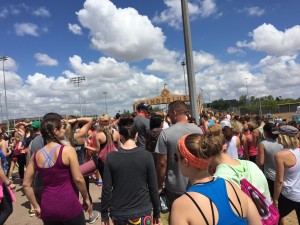 I was excited to show off my "Yoga, I'm Down Dog" shirt! Thanks mom for the awesome Christmas present!
Nicole and I snagged a picture during the pre-run stretch session!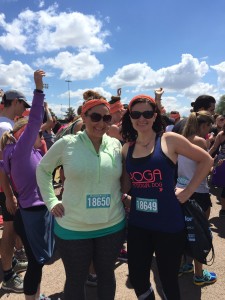 By 11am, the 5k started!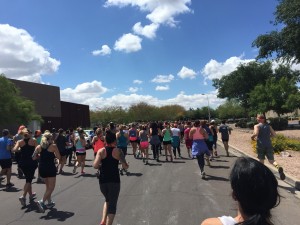 I got my start of the race selfie!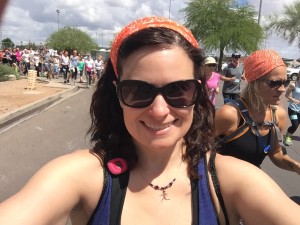 After the 5k was complete, I walked around the vendor booths and did some shopping! Check this awesome butterfly top from Yoganastix! They have a Facebook page and a website where you can purchase amazing yoga and/or casual clothes! I love that this a locally-based, small business owned by a husband and wife team! Here's the tagline from their website: "Your source for yoga inspired clothing. Handmade with love in Scottsdale, Arizona, U.S.A."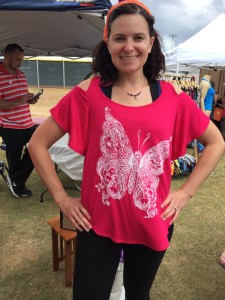 Right before our outdoor yoga class started at 12:30pm, I ran over to the Kaleidoscope booth for some snacks and a green juice! They had some yummy looking salads but they ran out quick, unfortunately! I was able to manage though with my all-greens juice, some hard-boiled eggs, and their healthy version of a rice krispy treat! My husband and I love their cold-pressed, all organic green juices! We like to go their stores in Scottsdale frequently! You can check out their website for locations and products!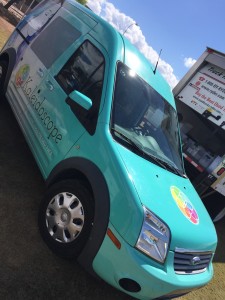 After munching on my snacks it was time for our yoga class to begin!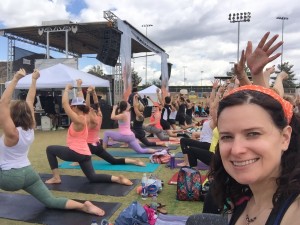 It was a huge crowd! About a thousand people!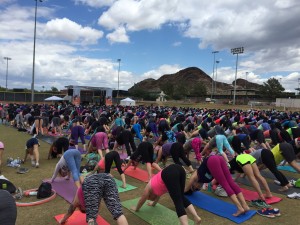 As you can see it was a cloudy day! That's a blessing for Phoenix residents who will be outside all day at the end of April so I was happy!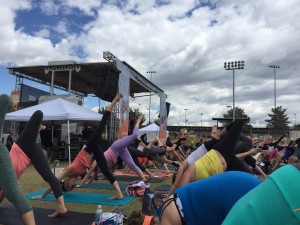 You can tell it was humid by the way, since my thick, curly hair was getting more expansive as the day went on LOL. #CrazyHairDontCare #MonicaFromFriendsInBarbados #WellMaybeNotQuiteThatBad 😉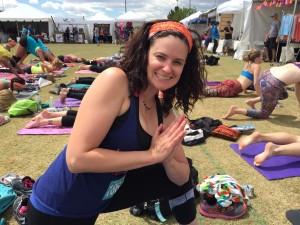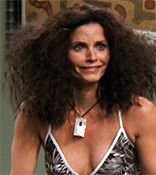 So speaking of clouds and humidity….when I heard it might rain (we had random bursts of rain the day before so it was quite feasible), I made sure to pack a towel, a light rain jacket, and an umbrella with me in my backpack!
As the yoga class came to a close and we transitioned from Savasana (a.k.a. corpse pose) to our meditation, I began to feel rain drops. Laying there with my eyes closed, I kept wondering if the drops would dissipate or become more and more frequent. Well just in the nick of time, I managed to throw on my rain gear and protect myself from the downfall that rapidly came! I don't have a picture of it, but try to imagine about 1000 yogis laying in a field, suddenly jump up and duck for cover haha! It was quite the sight!
By the way, my friend Nicole was quite impressed that she opened up her eyes to this hilarious image! #RainGearNinja #OnceAGirlScoutAlwaysAGirlScout #AlwaysBePrepared #OnlyOneWithAnUmbrella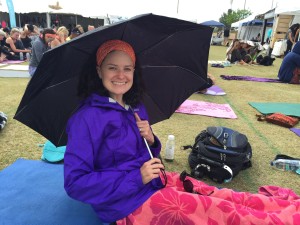 Luckily it only lasted about 10 minutes and then the sun came out again! At this point, it was time for hula hooping and acroyoga for those who wanted to participate!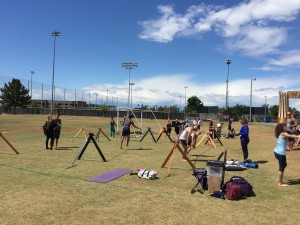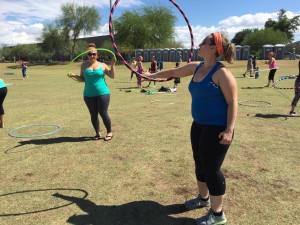 I had a lot of fun with the hooping!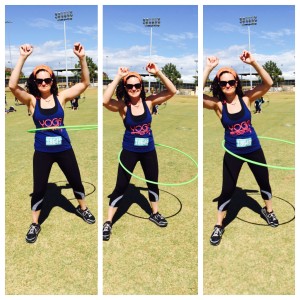 Overall it was GREAT day!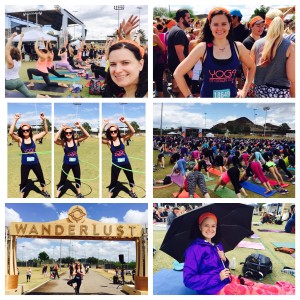 I may have some suggestions for the folks at Wanderlust though, to make next year even more fun! The method for bag check-in and bag retrieval took a very long time, so making that more efficient would definitely be a better use of everyone's time! Also, I was ecstatic that Kaleidoscope was there serving healthy food and organic juices, however, it clearly wasn't enough food to accommodate the large crowd, so inviting some of the local food trucks to attend the event would have been an amazing opportunity!
With that being said, I still thought it was a great event and I would love to do next year if they come back!
What do you think, would you attend a Wanderlust in your city?!

Follow